Discover more from Curiosity+Courage
Learn how to leverage creativity
032: The quandary of e-sports
[During - Session 10] If "everyone is a programmer," where are all the advertisers?
I'm a fan of history. I enjoy digging into the DNA of a company to better understand its brand. As an example—why did roughly 300 dairy farmers unite in St. Paul, Minnesota in 1921 to form a cooperative that became Land O'Lakes? My research suggests it boiled down to their collective potential.
---
Lots of research and data paint a glowing picture of e-sports as a future of advertising, typically based on the rise (i.e. "88% of Gen Z'ers and 92% of Gen Alphas reporting playing (video) games") of younger generations and their embrace of video gaming.
There is clearly something there. And yet.
The chart above comes from the pitch deck for LeagueOS, and my friend (and CEO/co-founder) Marty Wetherall. It points to a fascinating quandary.
If video games are so popular, why aren't more advertisers engaging in e-sports?
Let's step back in time. Maybe there's an answer.
In 1939 Edward U. Condon designed what is arguably the first video game for the World's Fair. In it, players competed against the computer in the ancient game of Nim. Of the thousands who played, 90% lost to the computer. On February 24, 1956, Arthur Samuels debuts a checkers-playing program on national TV. And in 1964 Dartmouth's John Kemeny coins a magic phrase: "Everyone is a programmer." Kemeny invented BASIC, which enabled millions to code millions of computer programs, many of them games. Then in 1967, Ralph Baer conceives and builds the "Brown Box", a prototype video game console. Gaming is still mostly in the laboratory.
The 1970s usher a turning point. And you can partially thank Minnesotans, who see gaming as a means to propel education in 1971. (Oregon Trail was produced by the Minnesota Educational Computing Consortium.) Atari's Pong arrives in arcades in '72, then homes in '75. In 1978 over 60,000 Space Invaders consoles arrive at arcades all over America. Gaming is out of the lab.
In 1980 Pac-Man arrives in arcades, then quickly in home consoles. 1982 was huge: Ms Pac Man shows up—becoming the best-selling arcade game of all time. Nintendo's Donkey Kong brings Mario to life. (Nice to see Minnesota's Red Wing Shoe Company celebrating the recent Super Mario Bros Movie release.) And TRON hits the big screen. Perhaps the first movie to become a video game. Tetris arrives in '84, Legend of Zelda in '87. And then what is likely the first "reality" franchise—John Madden Football—debuts in 1988. One could argue Madden marks the beginning of "sports" and gaming coming together. The next year, Nintendo's Game Boy arrives. In the course of a decade video gaming becomes a full fledged industry, and a normal part of millions of American households.
In 1990 Microsoft incorporates the card game Solitaire into Windows 3. This is how pretty much everyone who isn't a "gamer," becomes a gamer. (And I wonder if we'll see another corollary as they roll out AI-generative tech with Copilot.) Sony launches the Play Station in 1995. Two years later IBM's Deep Blue defeats chess champion Gary Kasparov. But it's likely the arrival of the World Wide Web in 1993, and the rise of global, multi-player gaming, which defines the decade.
The past 23 years we've seen various consoles arrive (i.e. the Xbox in '02), and massive multi-player franchises (i.e. World of Warcraft in '04) take off. But then Steve Jobs introduced the iPhone in 2007 and everything changed and the world started turning mobile. In '08, just before the App Store arrived, my agency Hello Viking launched Viking Smackdown, a mobile app leveraging the iPhone's accelerometer. We were no Angry Birds ('09). Or Minecraft ('10). The pace increases: By 2015 Amazon has acquired Twitch, and the League of Legends World Championship is watched by 36 million viewers. E-sports has arrived? In 2016 Pokemon Go reveals the benefits of AR, and Facebook brings the Oculus (and VR) to the masses. Since the pandemic we've seen hundreds of millions embrace Animal Crossing, Among Us, Fall Guys, etc. Gaming appears to be everywhere.
And yet the quandary remains.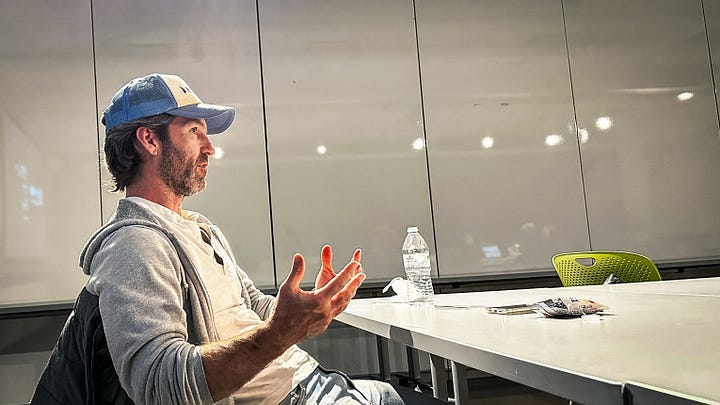 Thanks for illuminating and provoking us, Marty!
Why hasn't advertising embraced e-sports as deeply as the data and history suggests it should? A few theories we discussed in class:
1️⃣ It's still a generational thing? The olds will gladly sit in stadiums, engage in statistics, organize fantasy leagues, and support billions of advertiser investment in sports—so long as it's "sports" as defined in their youth. This feels very similar to generational definitions of investing.
2️⃣ Is it the blood? Or the complexity? Sure, hockey and wrestling and NASCAR often celebrate violence. But it's not the point of the game, unlike literally every first person shooter. You can see why a school district might prefer funding a Rocket League versus Counter-Strike team. And while the rules of baseball can confound, they pale in comparison to Overwatch.
3️⃣ Is it our limited, un-creative definition of advertising? In the same way we collectively decided the Internet would be a direct marketing realm versus a brand building system? This is where the real opportunity exists. Video games were, by nature, walled gardens free from advertising (yes, yes, I know "Madden"). What remains un-built is an infrastructure which enables players, teams and their operations, leagues and their operations and fans to engage with brands and advertisers in entirely new ways.
Marty's trying to figure this out. Ping him if your brand or agency wants to explore.
I believe creativity is the tool to unlock audacious opportunity. Please subscribe if that's your cup of tea.