Discover more from Curiosity+Courage
Learn how to leverage creativity
029: Data, Imagination and the future
[During - Session 09] Balancing "IKTHTMISOAIW" and "Science is not the only way of knowing our world"
🙏🏽 Thanks to the enthusiasm and coaching of this newsletter's readers, I've spun up an online course called Generatively Better. You'll take immediate advantage of AI-generative tools like ChatGPT and Midjourney, and be prepared for AI workplace systems like Microsoft Copilot. The course is available as one hour 1:1 coaching, or for groups up to 6 people, all via Zoom.
TL;DR
Lots of links below to examples of data-unlocking creativity, and many nuanced perspectives on the role of data. Alex Murrell and Jeremy Bullmore offer particularly keen insights.

I had no idea tonight's guest speaker and I both used Photoshop when it was in beta.

Of all our major themes, this is the one requiring perhaps the deepest civic and personal examination. With the TikTok Goes To Washington circus over, will we finally get some data privacy legislation? As marketers, we're often encouraging, "what works for the algorithm," to quote Martin Weigel. But at what cost?
---
Our sixth major theme in the Future of Advertising is Data.
I probably spent four, maybe five years working in advertising before the notion of data made a useful appearance. Sure, there would be demographic data in briefs, or numerical data in media reporting. But as a source of inspiration? No. My sense of "data" then was very limited to spreadsheets with their poorly designed white space. Data came across as the business suit, or maybe the business hoodie. Merely as measurement.
But then I read Moneyball. And data suggested fresh ways of seeing. In a way, it took the arrival of code, and the Internet, to unlock data-inspired creativity broadly. To make it…accessible to those of us who typically wrestled with words and images. And while we're on the Michael Lewis train, let's acknowledge all that sexy data got ridiculously, quickly profitable and almost tanked the economy. And created the performance-driven behemoths we know and love today.
But our focus here is advertising, specifically creativity. And it's hard to imagine a clearer example of data-inspired creativity than Spotify Wrapped. I admire its use of platform data fueling ad creative—i.e. absurdly specific data igniting headlines and media placements—especially back in the first, 2016, iteration of the campaign (recap video here). Begs the question: What absurdly specific data might lurk inside your organization which could energize your brand?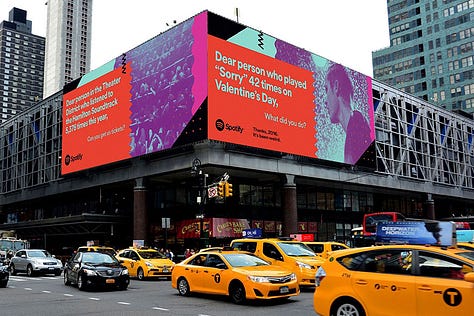 Now there are so many more examples.
DDB Mexico's "Data Tienda" won the 2022 Grand Prix in Creative Data at Cannes for converting (often) hand-written data (i.e. individual retailer loan records) into bank-worthy data enabling Mexican women to finally leverage Mexico's banking systems. Brilliant.
The Black Elevation Map visualizes population, cultural and business data to redefine exploration and travel insights for the modern Black traveler.
During the 2021 Summer Olympics, Lacoste sponsored a first—live performance data united the eight men swimming the 50m freestyle final in Japan with a "9th Lane" Paralympic swimmer in Paris.
Or Sherwin-Williams' Speaking in Color, which reimagines all the data we associate with color through natural language processing.
The good news: You can easily find so many "creative use of data" examples via award shows including the Clios, LIA, One Show, Cannes, and D&AD offers some keen advice.
---
Many thanks, Andrew!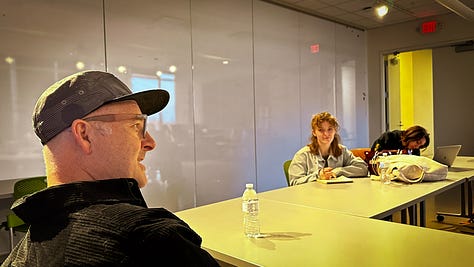 I've known long-standing entrepreneur, agency founder (at age 26!), and data enthusiast Andrew Eklund for decades. Aside from our mutual admiration for prog rock, he's helped me grasp the techniques, language and culture of left-brained marketing. As Andrew puts it, "we're all trying to solve the same thing." Which is greater relevance, and less ad crap. Data is the mechanism making both scenarios possible.
And then there's Curious Fruit.
---
The task of agency amidst a timeless balancing act
Okay. So on the one hand we have our left-hemisphere, IKTHTMISOAIW approach to today's subject. (Jeremy Bullmore's 2013 op-ed warrants your attention.) This often feels like a constant search for the quantified self, of which Nike+ was the longtime "data fuels creativity" reference point. And now you might point to Netflix and its "casual machine learning for creative insights", i.e data revealing optimal movie thumbnail design.
But I tend to favor UK strategist Martin Weigel's definition:
"It's advertising designed for that part of the brain that … prizes utility, power and control, whose principle tool is language, that is concerned with cause and effect, that likes clarity and certainty, that is literal and prefers the literal over the implicit. All the things which our culture so enamoured with data, empiricism, science, and logic prizes so much."
This path leads to, "adapting our behaviours and language to what works for the algorithm," says Weigel. What we might call Computational Culture, optimizing us towards what Alex Murrell calls The Age of Average (👈🏽 a fantastic read, btw). Is it no wonder everything seems so familiar?
"Back To Back, Viewed From the Side" via French blogger Christophe Courtois
There's no doubt data matters greatly, and empowers powerfully in the realm of marketing and advertising. Especially as AI takes hold. McKinsey's team asserts, "Not all business problems are ML problems. But some of the most persistent challenges that hold businesses back can be reframed as ML problems, which can in turn enable novel approaches to creating solutions." That's the spirit, right? To reveal data's ever-surprising capability? Data + AI are unlocking incredible advantage, faster than we imagine.
Then, at long last, on the right-hemisphered hand—I hope Weigel is right. Indeed, "science is not the only way of knowing our world." It shouldn't take much effort to,
"(finally) let go of the silly assumption that people are data processors."
This is why our individual agency and reflection in this moment truly matters. Brian Roemmele tasks us to consider data and AI as, "a power and a curse based on how you use it—and how it uses you."
Technologies including digital wallets are also shifting the conversation. As Accenture puts it in their 2023 Life Trends report (slide 59),
"The status quo of how personal data is used—and even misused—is long overdue for a change."
Our challenge as marketers and definitely as creatives is to demand more from the insights data might afford, instead of merely succumbing to the shiny optimization data easily provides.
Murrell puts it well:
"So, this is your call to arms. Whether you're in film or fashion, media or marketing, architecture, automotive or advertising, it doesn't matter… culture is flatlining and the only cure is creativity.

It's time to cast aside conformity. It's time to exorcise the expected. It's time to decline the indistinguishable.

For years the world has been moving in the same stylistic direction. And it's time we reintroduced some originality."
Amen.
---
I'll be back Wednesday with an "After" reflection on today's subject.
If you've read this far, I greatly appreciate it.
And if you're not yet a subscriber, imagine how much better your inbox will become